Written by
Sherry Garland
Illustrated by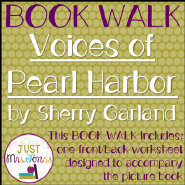 MORE TIPS:

When I read to younger students I first give a little background about Hawaii and why the American Naval fleet was there. Most of these props may be found at a party store.

1) I dress a volunteer girl with a grass skirt and a plastic flower lei, then play some old fashioned Hawaiian music while she and I do a little slow hula dance. Kids love to laugh.

2) I dress a boy in a US Navy sailor cap and explain that the US moved their ships to Hawaii because Europe was at war with Germany and Japan had signed an alliance with Germany. The US was fearful Japan might attack the Philippines, but they weren't as worried about an attack on Pearl Harbor.

3) Grab a couple of kids and play some old fashioned Swing or Jitterbug music. Explain that on the night of Dec. 6, the Naval base was having a big event called the "Battle of the Bands" where bands from different ships competed and everyone danced. All the kids have to do is jump and wiggle around to the music. If you dress them in Hawaiian shirts, it's even more fun.

4) Tie a Japanese headband around a boy. Explain that the Japanese had to be very quiet in their ships so that no one would hear them coming. Explain that the attack of Japanese planes was a surprise. There were NO Kamikaze attacks at Pearl Harbor.

Now read the entire book. Hopefully the students will have a better understanding of the events that brought the USA into World War ll.

Click arrow:

Hulu dancing to Hawaiian music.